The practice of sack and container gardening has over time become a popular practice.
Sack farming is a method of growing crops in soil-filled sacks or polythene bags, containers or plastic.
Counties such as Nairobi and parts of Kiambu have adapted this practice because of the limited amount of space. Sack and container farming helps both gardeners and farmers make up for the element of space.
You might be wondering which kind of crops thrive in sack gardens and well almost every fruit or vegetable can thrive in these set-ups provided the containers are large enough.
The most common crops however are herbs, tomatoes, onions, peppers, lettuce, and kale just to name a few.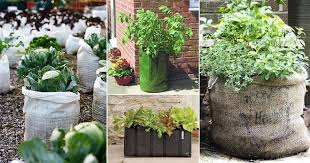 How to make the sack gardens
All you need to make sack or bag gardens is a piece of sack, bag or container the sizes are up to you.
Fill them up with the soil and compost mixture of your choice, small stones to help fill up the bag as well and finally mix it in with the seeds or transplant the seedlings of your choice.
For the best results, ensure you pay close attention to your sack gardens. Water them constantly and watch out for weeds that may end up growing.
Benefits of sack gardening
As it has been pointed out before, sack farming has been advantageous as it helps people who have big spaces, especially in urban areas.
It gives helps level the playing field when it comes to matters of food security. The cost of living has highly increased. Having your food garden helps combat that
It gives the people who grow these gardens nutritional value from their garden. Growing highly nutritious food in your sack garden will help you and your family get the right nutrient to help maintain good health.
Unlike growing and working on other farms or gardens, sack gardens are found to be more cost-effective.
It gives a chance for job opportunities. With the high rates of unemployment amongst our youth, this might be a good opportunity to make make a living from the sack garden.
Growing sack gardens also helps bring the family together. Including your kids and teens in your household will help them learn and stay productive which plays a good role in their growth.
Growing sack gardens around your community is a good way to bring people together. community gardens bring people together as they give people a chance to learn, grow together and provide for the less fortunate in the community.
So if you are thinking about growing your own food probably around your small compound or balcony, this is a great way to start the process. Know what you want to grow and take the necessary steps to grow a thriving sack garden.
More in gardening; Gardening for beginners: https://tropika.co.ke/gardening-for-beginners/